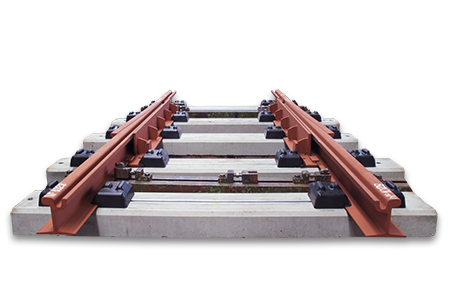 Track expansion devices and joints guarantee the maintenance of the width of the railway line against temperature changes, as they permit the movements caused by the expansion and contraction caused by the thermal effect.
They are used, for example, at the ends of bridges or viaducts where their length varies according to outside influences, such as the traffic load, temperatures or wind. Sometimes, the stress exerted also involves torsion in the area between the moving part of the bridge or viaduct and its supporting structure. The role of expansion joints is to absorb these variations in length and address, when appropriate, the torsion. 
Amurrio manufactures expansion devices on wooden or concrete sleepers, ballastless track or combinations of these supports, with a throw from ±100 mm to ±600 mm.
Device that is placed at the entry to a metal section to rerail any vehicle that has suffered a derailment. The derailed axle is raised by the sloping planes, and the guard-rails bring the wheels closer to the rails until they are placed on them using rerailing blocks.
The length of the device depends on the speed of the line. 
At Amurrio we manufacture different types on wooden and concrete sleepers, or on ballastless track, for high speed layouts, conventional track, trams, metros and heavy haul.