The switch has the function of managing the direction of traffic on the direct or deviated track. Tipically, it has movable tongues that divert the train in the desired direction. The tongues move on bearings or slide bars to be coupled to the stock-rails, and are secured by a locking system.
Rigid Articulated Tongue:
Manufactured from the same rail as the rest of the turnout, it works very well for traffic at low speeds (up to 120 km/h), with a light load. The connection to the rest of the track with bolted flanges requires maintenance.
Flexible welded
tongue:
Manufactured from the same rail as the rest of the track or with wide-section rail to provide more resistance, it is welded to the rest of the track so there is no gap and wear.
It requires a longer length that the articulated type, but it needs less maintenance.
Requiere más longitud que la articulada, pero necesita menos mantenimiento.
Flexible with asymmetric low profile:
The most frequently used type in passenger networks built to European standards (UIC or EN). The asymmetric low profile is lower than the profile of the rest of the track. This allows the stock-rails to be fastened indirectly and flexibly on both the exterior and interior. 
Another advantage is its high resistance to torsion due to its compact design, so it is suitable for heavy loads and high speeds.
All the tongues move on slide bars that allow the smooth transition of the tongues from one position to the other.
Depending on the characteristics of the layout, different technological solutions can be applied to reduce the need for maintenance and the environmental impact of the slide bars:
lubrication with grease
low friction NiCr plates
layers of molybdenum
roller systems
etc.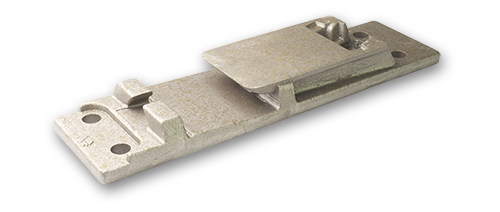 The stock-rails are the area of the track where the tongues are coupled, forming a smooth and safe union. 
Precision when adjusting the tongues and stock-rails is of the utmost importance to achieve maximum safety with minimum maintenance.
Joints and Locking Device:
The lock is the mechanism responsible for securing the tongues and stock-rails tightly enough to ensure the perfect continuity of the line in the switch of track.
In the case of the claw lock, this mechanism consists of a traction bar connected to the switch actuation. This bar operates connecting rods that hold the tongues of the points.
CRBM clamp locking device with minimum maintenance developed and manufactured exclusively by Amurrio.
CRBM es un cerrojo de rodillos de bajo mantenimiento desarrollado y fabricado exlusivamente en Amurrio.