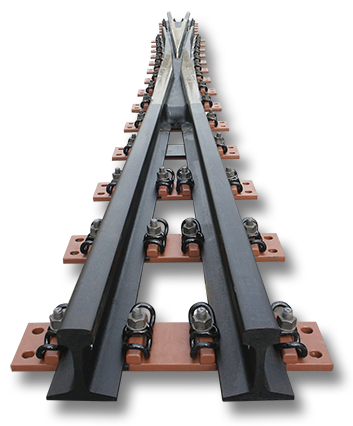 Crossing
The crossing is the key part within the area where the lines intersect, and by extension the whole turnout.
At Amurrio we are one of the European leaders in the design and manufacture of mono block crossings in manganese steel. We develop solutions for all types of layouts, using in each case the most appropriate type of crossing for the technical and economic parameters of the project.
Guard-rails
Parts positioned at the crossing location, very near the opposite rail, to prevent the trains derailing when passing the turnout. It is made with a section of rail, or with a special profile, whose mission is to guide the wheels of the vehicles as it passes through the crossing area. Less complex than the crossing, this is a very important part for the safety of a turnout.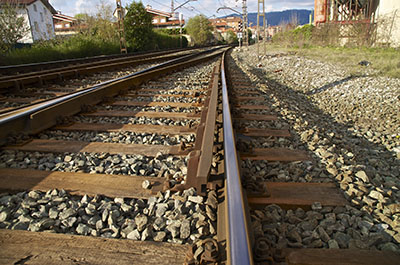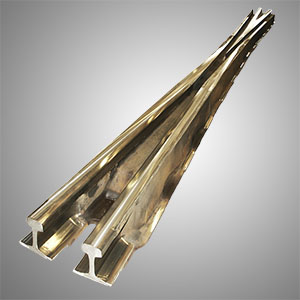 Monoblock Crossing in Manganese Steel
These crossings are manufactured in one single part without bolted joints, cast and machined integrally at our facilities in Hadfield steel (Mn 12/14%).
Every crossing is subjected to heat treatment in a gas furnace and cooling in a pool.
The result is parts that are highly versatile in terms of application (high speed, conventional, trams, cargo, etc.) and barely require maintenance throughout their life cycle.
Movable Point Crossing
Especially appropriate for high speed applications with very small angles. Also appropriate for use in the immediate area of hospitals or museums, or in tracks that must withstand very high loads.
The tip of this crossing moves in conjunction with the changing of tongues to turn out the traffic, thus eliminating the jump that occurs in traditional crossings.
At Amurrio we have developed solutions both for increasing safety and reducing the need for maintenance at these crossings.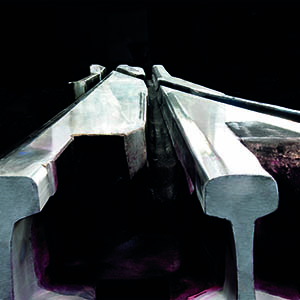 Manganese Steel Special Crossing
With characteristics and manufacturing processes similar to normal crossings in manganese steel, these special crossings have been developed by Amurrio for use in tracks where different track gauges must coexist, in configurations of three or even four lines.
The resistance of the manganese steel in which they are manufactured enables a high level of traffic demand at average speeds, with low maintenance requirements.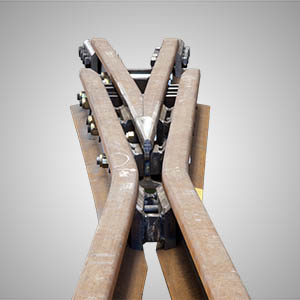 Assembled from rail Crossing
The rail-mounted crossing is probably the simplest way to make a track switch crossing.
This technique makes it possible to achieve basic geometries by machining the rails, and applying spacers and bolts.
More maintenance is needed for this type of crossing, and their use must be restricted to layouts with limited speeds.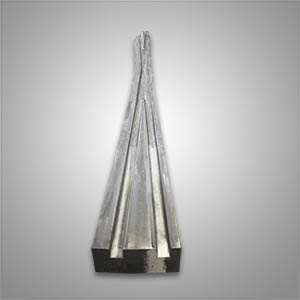 Monoblock from steel block
Machined integrally using one single steel block, this solution makes it possible to obtain complex geometries and configurations at a very competitive cost, even in short series of few units. 
These are crossings intended for low speed layouts with light loads, like those used in industrial sidings and similar.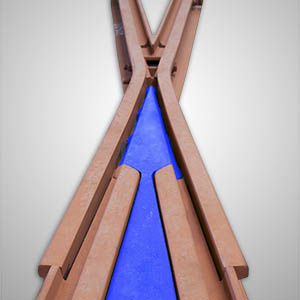 Assembled with manganese steel point
This development is an evolution of the crossing assembled from the rail, of which it retains the main advantages, and to which it adds a manganese steel tip that is very resistant to wear.
Its various bolted joints still require a high level of maintenance, but on the whole it is a high performance solution that is more accessible than a mono block crossing in manganese steel.